Welcome to Election Week 2020 in Pennsylvania.
On Tuesday, Spotlight PA reporters fanned out across the state — from Butler County to Gettysburg to Wilkes-Barre — to send dispatches from polling places throughout the day.
Now, we're following the counting of mail ballots, legal challenges, and everything else you need to know as Pennsylvania works toward finalizing its results. Read a note from our editor about what to expect from Spotlight PA's coverage.
President Donald Trump: 'The election is for from over'
12:45 p.m.
From The Philadelphia Inquirer's live blog:
"President Donald Trump, after months of making false claims about alleged widespread voter fraud in his bid for a second term, vowed Saturday to keep fighting in court immediately after the contest was called for former Vice President Joe Biden.
'We all know why Joe Biden is rushing to falsely pose as the winner, and why his media allies are trying so hard to help him: They don't want the truth to be exposed,' Trump said in a statement issued by his campaign, following mail ballot vote tallies released in Philadelphia that tipped Pennsylvania, and the presidency, in Biden's direction.
'The simple fact is this election is far from over,' Trump claimed, citing vote recounts called in some states where the margins were narrow and a flurry of legal challenges his campaign has filed. 'Beginning Monday, our campaign will start prosecuting our case in court to ensure election laws are fully upheld and the rightful winner is seated.'
Trump declared victory early Wednesday morning at the White House, when the election's results were far from certain."
And in Philadelphia, the Trump campaign vowed more legal action.
"Even as Joe Biden was declared the projected winner of Pennsylvania — and ultimately the presidency, President Donald Trump's legal team refused to concede without a fight and promised a slew of new lawsuits Monday challenging the vote-counting process in Philadelphia.
At a news conference in Holmesburg, the president's personal lawyer, Rudy Giuliani, reiterated Trump's persistent complaints about mail ballots and the access his canvassing monitors had to where votes were being counted.
In his freewheeling remarks — filled with misleading statements and claims of misconduct offered without evidence — he took swipes at Mayor Jim Kenney, District Attorney Larry Krasner, and what he described as its 'decrepit Democratic machine.'
Flanked by several Republican canvassing monitors from the city, Giuliani did not describe the goal of any new specific lawsuit — one of several he pledged would be filed Monday. But he reiterated complaints that Trump's campaign has previously litigated in court, including the access canvassing monitors had to the building where Philadelphia's vote-counting process was taking place."
AP: U.S. Rep. Conor Lamb wins reelection
12:30 p.m.
U.S. Rep. Conor Lamb has won reelection in the Pittsburgh Suburbs. The Associated Press called the race Saturday morning.
All of Pennsylvania's 18 congressional incumbents held onto their seats. — Sarah Anne Hughes
BREAKING: Democrat Conor Lamb wins reelection to U.S. House in Pennsylvania's 17th Congressional District. #APracecall at 11:41 a.m. EST. #Election2020 #PAelection https://t.co/lGfinjTqT4

— AP Politics (@AP_Politics) November 7, 2020
Biden projected to win Pennsylvania, become next president
Vice President Joe Biden is projected to win Pennsylvania and with it, become the next president of the United States, according to the Associated Press.
The commonwealth's 20 Electoral College votes gave Biden the decisive edge, defeating President Donald Trump in a state that was key to Trump's victory four years ago.
While Trump jumped out to a significant lead in Pennsylvania after Election Day, huge numbers of Democrats voting by mail eventually tipped the scale to Biden.
Support for Biden in the suburbs of Pittsburgh and Philadelphia, as well as key bellwether counties of Erie and Northampton, helped boost his candidacy. — Chris Baxter of Spotlight PA
State GOP wants U.S. Supreme Court to toss late-arriving mail ballots
4:45 p.m.
From The Philadelphia Inquirer's live blog:
"As Joe Biden's lead over President Donald Trump in Pennsylvania grew Friday afternoon, state Republicans returned to the U.S. Supreme Court urging it overturn the state's three-day grace period for late-arriving mail ballots and order, in the meantime, that none of those votes be added to the count.
The justices had declined an earlier push seeking their intervention before Election Day, but noted at the time that they might be open to considering the issue down the road.
The extension was authorized by Pennsylvania's highest court in mid-September in a ruling that allowed counties to count ballots received up until 5 p.m. Friday — as long as they had been postmarked by Election Day.
Secretary of State Kathy Boockvar has advised counties to segregate — but still count — any mail ballots that came in after Nov. 3 so that if the U.S. Supreme Court were to take up the case they could be easily isolated.
But in its filing Friday, the Pennsylvania GOP argued it was unclear whether counties were following Boockvar's instructions and insisted the ballots shouldn't be added to any tally until the Supreme Court determined their validity."
AP: Attorney General Josh Shapiro wins re-election
2:53 p.m.
The Associated Press has called the state attorney general race, declaring Democrat Josh Shapiro the winner. Democrats have otherwise suffered a number of down-ballot defeats, including losing the auditor general race. — Sarah Anne Hughes of Spotlight PA
State court: Counties must set aside "cured" ballots
2 p.m.
A state appellate court judge on Friday ordered the segregation of all provisional ballots cast at the polls on Election Day by Pennsylvania voters who had submitted mail ballots that were rejected for deficiencies like missing signatures or secrecy envelopes.
The ruling, from Commonwealth Court Judge P. Kevin Brobson in Harrisburg, came after a hearing in which lawyers for two Republican congressional candidates and several GOP voters sued alleging some of those votes may have been illegally cast.
The ruling instructed Pennsylvania's 67 counties to keep a separate tally of those votes as they continued their count, pending a further decision in the case.
At issue was a practice by several Pennsylvania counties, including Montgomery and Bucks, that alerted voters who had submitted flawed mail ballots that their votes were in danger of being thrown out.
Many of those counties offered voters the chance to correct the mistakes or to cast a provisional ballot at the polls on Election Day. Other counties released lists of those voters to the two political parties which may have alerted voters themselves.
Republican lawyers argued that guidance from Secretary of the Commonwealth Kathy Boockvar encouraging such activity violated the state's election laws and they noted that not all counties had notified voters with problematic ballots.
Boockvar and the counties maintain that not only was this practice legal but it has been carried out with mail ballot voters in several past elections. — Angela Couloumbis of Spotlight PA and Jeremy Roebuck of The Philadelphia Inquirer
Trump campaign vows more legal action. How could a recount be called in Pa.?
10:15 a.m.
The Trump campaign is vowing to continue taking legal action in Pennsylvania and other crucial states, as Vice President Joe Biden takes the lead in the vote count.
"The election is not over," Matt Morgan, general counsel for President Donald Trump's campaign, said in a Friday statement.
This election is not over. pic.twitter.com/0WJGtgqKxX

— Team Trump (Text VOTE to 88022) (@TeamTrump) November 6, 2020
At the moment, a judge in Harrisburg is hearing arguments in a case over "cured" ballots. In Pennsylvania, some counties contacted voters whose mail ballots were in some way problematic — missing a needed secrecy envelope or signature — in order to give them an opportunity to correct those mistakes.
The Trump campaign is also seeking to intervene in a case before the U.S. Supreme Court challenging mail ballots in Pennsylvania that were sent before Election Day but arrived late.
And while not raised in Morgan's statement, the Trump campaign could attempt to initiate a recount in Pennsylvania.
In the state, a recount is automatically called when the vote margin is 0.5% or less. Three voters can also request a recount in a certain race through county boards or a Court of Common Pleas. Candidates can also challenge any "order or decision of any county board regarding the computation or canvassing of the returns of any primary or election." In that case, a judge may decide a recount is necessary. — Sarah Anne Hughes of Spotlight PA
AP: Republican DeFoor wins auditor general race
9:45 a.m.
The Associated Press has called Pennsylvania's auditor general race for Republican Timothy DeFoor.
DeFoor, currently Dauphin County's controller, defeated Democrat Nina Ahmad, who was a deputy mayor for public engagement in Philadelphia. DeFoor will succeed Democrat Eugene DePasquale, who lost his congressional bid in the Harrisburg suburbs this week.
Republican Timothy DeFoor to become the first person of color to hold statewide office in PA
(aside from judges) https://t.co/fP0KExLnRg

— Jonathan Tamari (@JonathanTamari) November 6, 2020
DeFoor's win is part of an emerging trend of down-ballot losses for Democrats in Pennsylvania. Despite tens of millions of dollars poured into legislative races, Republicans are expected to keep — and even grow — their majorities in the state House and Senate.
Still uncalled are the races for attorney general and treasurer. Current AG Josh Shapiro, a Democrat, appears to have a strong lead. — Sarah Anne Hughes of Spotlight PA
The vote count continues as Biden takes the lead
8:45 a.m.
It's Friday in Pennsylvania, and the number of mail ballots left to count continues to shrink. Just before 9 a.m., Vice President Joe Biden took the lead in Pennsylvania for the first time, results compiled by the Associated Press show.
At the moment, Biden is leading President Donald Trump by 5,594 votes.
It's extremely important to note that, even should the networks begin calling Pennsylvania, the vote count won't be finalized for some time. Counties are handling provisional ballots today, and military ballots can still be received through next Tuesday. — Sarah Anne Hughes of Spotlight PA
NEW: We've just updated our results page to include nearly 6,000 mail-in votes cast by Philadelphia voters. You can follow our results page here: https://t.co/zZalZqIuLe

— Commissioner Al Schmidt (@Commish_Schmidt) November 6, 2020
Pennsylvania's count will continue Friday
6:20 p.m.
After telling CNN <a href="https://web.archive.org/web/20220814041742/https://www.cnn.com/politics/live-news/trump-biden-election-results-11-05-20/h_63b67a7c86bcf6d3a56df2ad92de3b2d>"we definitely could" know which presidential candidate won Pennsylvania tonight, the state's top election official, Kathy Boockvar, later told reporters it's unclear when the tally will be complete.
"The counties are continuing to count," Boockvar said. "We've actually already counted the overwhelming majority of ballots, but because it's a close race, it's not quite clear yet who the winner is."
Boockvar also said the total number of provisional ballots cast is not yet finalized, as counties are still submitting their totals. She was also unsure of the total number of mail ballots that have so far arrived after 8 p.m. Election Day. Under a state Supreme Court ruling, counties can accept and count ballots that arrive by 5 p.m. Friday as long as they were postmarked by Election Day or there's no proof they were mailed too late.
"The numbers that have come in so far are a tiny fraction of what came in after the primary," Boockvar said. That number was in the tens of thousands. — Cynthia Fernandez of Spotlight PA
'Overwhelming majority' of votes will be counted today, top official says
2 p.m.
Appearing on CNN just after 1:30 p.m., Pennsylvania's top election official said she expects the "overwhelming majority" of ballots to be counted today.
Kathy Boockvar told anchor Jake Tapper the count is "ahead of schedule." Boockvar previously told Spotlight PA she expected all ballots to be counted by Friday.
Officials are expected to address the press this afternoon. — Sarah Anne Hughes of Spotlight PA
Pennsylvania Secretary of State Kelly Boockvar tells @CNN that the state will have the "overwhelming majority" of ballots counted today. We may know today whether Biden or Trump won the state.
*550,000 ballots are left to count.
*"It's looking like we're ahead of schedule." pic.twitter.com/08B8CTdEwT

— Jim Roberts (@nycjim) November 5, 2020
Department of State fixes incorrect info about York County provisional ballots
1:30 p.m.
The New York Times reported that York County was the only county in the state to report results from provisional ballots — ones cast by people whose eligibility to vote at the polls was uncertain.
But as it turns out, information about York County's provisional ballots was posted in the state election system incorrectly, according to a spokesperson for the Department of State. York County doesn't plan to start counting provisional ballots until 10 a.m. Friday.
Wanda Murren, of the Department of State, said when York County uploaded its file to the statewide election system, data was in the incorrect columns. The information has been corrected, Murren said. — Ed Mahon of Spotlight PA
Philadelphia vote count back on after a temporary pause
12:20 p.m.
From The Philadelphia Inquirer's live blog:
"Philadelphia elections officials have resumed the counting of remaining mail ballots after what a city spokesperson described as 'brief pause' after a court-ordered Trump campaign canvassing monitors be granted closer access to the operations.
Earlier Thursday, the Pennsylvania Commonwealth Court ordered that the Trump campaign observers had to be able to stand within six feet of any tables where counting is taking place in order to meaningfully monitor the process.
City lawyers said they would appeal the order to the Pennsylvania Supreme Court."
No, Allegheny County isn't taking the day off
11:55 a.m.
You may have seen national reports saying that Allegheny County is taking the day off from counting 35,000 remaining mail ballots. Those reports are misleading.
Because a mailing company sent 29,000 ballots to the wrong voters, Allegheny County cannot begin processing those votes until Friday. The other 6,000 ballots similarly have issues that need to be reviewed by a special board tomorrow.
You can read all about it here.
And if you haven't yet, read our report with Votebeat on how Allegheny County came to work with Midwest Direct, the mailing company that sent out the wrong ballots. — Sarah Anne Hughes
The final (mail ballot) countdown
9:30 a.m.
It's Thursday in Pennsylvania, and the Department of State's website shows 763,000 mail ballots left to count. But that number is higher than reality.
The state website is showing York County has counted zero mail ballots, an issue caused by a "glitch." A spokesperson told our Ed Mahon all mail ballots received by 8 p.m. Election Day — roughly 76,000 — have already been counted.
The state website is also showing Erie County has counted just under 20,000 mail ballots. But the county's own website says workers have counted 32,618 out of nearly 50,000.
Montgomery County reported this morning that all ballots received by 8 p.m. Election Day have also been counted, which isn't reflected on the state website yet.
After counting ballots for 24 hours a day, we have counted all ballots received by 8 p.m. on #ElectionDay

There are a number of ballots still under review as part of the official canvass process. pic.twitter.com/3xLL0w1oyK

— Montgomery County PA (@MontcoPA) November 5, 2020
So does that mean the count will be finished today? We might get close.
Allegheny County has finished counting 313,072 mail ballots, but still has 35,413 that are unresolved in some way. Many of those — 29,000 — had to be set aside because the printer sent voters the wrong ballots. Now, the county has to wait to see if those voters sent in a corrected ballot by the 5 p.m. Friday deadline or voted by provisional, a process that takes time.
The state website is also showing there were 120,000 ballots left to count in Philadelphia as of last night. Updated numbers should be available soon. — Sarah Anne Hughes of Spotlight PA
Wolf vows to 'fight like hell' against Trump legal challenges
7 p.m.
During a Wednesday evening briefing, Gov. Tom Wolf and the state's top election official, Kathy Boockvar, said they would not stop counting mail ballots in response to President Donald Trump's new legal challenges.
"I'm going to fight like hell to protect the vote of every Pennsylvanian," Wolf said. "That is simply wrong. It goes against the most basic principles of our democracy. It takes away the right of every American citizen to cast their vote. … These attempts to subvert the democratic process are simply disgraceful."
Boockvar said she cannot comment on pending litigation but will oppose any effort to stop the count.
The Trump campaign is also seeking to intervene in a Republican challenge to a state Supreme Court ruling that authorized a three-day grace period for ballots to arrive after Election Day. While she didn't have an exact number, she said counties have received just hundreds of late-arriving ballots — fewer than expected.
"I think it will continue until the last ballot is counted. Every voter is going to have the opportunity to cast their vote," Boockvar said. — Cynthia Fernandez of Spotlight PA
When will Philadelphia finish counting mail ballots? Officials aren't sure.
6 p.m.
From The Philadelphia Inquirer's live blog:
"Philadelphia's City Commissioners, who oversee voting in the city, held off on setting a timetable when vote counting would be done in a news conference Wednesday.
'I don't want to hold us to a hard fast deadline,' Commissioner Lisa Deeley said. Workers are continuing to work hard, she said, 'and we will continue to throughout the night to get this done.'
As of shortly before 4 p.m., 233,468 of 353,000 mail-in ballots received so far have been scanned, and 97% of the city's in-person votes have been tallied."
Erie will continue counting mail ballots Thursday
4:48 p.m.
Erie County Clerk of Elections Doug Smith is slowly trying to give county workers some of their life back, closing shop a little earlier than planned at 6 p.m. instead of 8 p.m. on Wednesday.
"Our group is pretty strung out, so I think we're going to try to give them a breather and pick it up again tomorrow," Smith said.
Erie County's election workers have been able to count mail ballots faster than county officials expected. Council Member Carl Anderson III, also the elections board chair, said the goal was to get through 10,000 ballots by the end of Election Day.
At 12:40 a.m. on Wednesday, the county reported results that included more than 14,500 mail ballots.
By 4 p.m., the county was more than halfway through tabulating the almost 50,000 mail ballots received by Election Day. Smith said the county will be able to report out most of them by 6 p.m.
So far, about 77% of mail ballots have gone to former Vice President Joe Biden in the presidential race. He trails President Donald Trump by about 8,000 votes in Erie County, as of 4 p.m.
Today, workers are canvassing ballots from boroughs around the county, both close to the city and farther into the county, and finally townships, which Smith said may have more Republican votes. Ballots that remain will most likely be counted tomorrow, Smith said.
Erie County will likely finish with around 70% turnout, according to Anderson. That would top the 2016 general election turnout of 66%.
There are still several categories of outstanding ballots to count before counties send in their unofficial results to the Pennsylvania Department of State by 5 p.m. on Nov. 12.
Those include mail ballots received between 8 p.m. Election Day and Friday at 5 p.m. The state Supreme Court ruled those ballots can be counted if they are postmarked by Election Day or if there isn't proof they were sent too late. Military and overseas ballots are due by Nov. 10 but had to be submitted for delivery no later than noon on Nov. 2.
Provisional ballots also must be counted. Smith said he expects the county will need to count between 1,000 and 3,000 provisional ballots, much more than previous elections.
In past presidential elections, more than 200 or so would have been considered a lot, Anderson said. — Tom Lisi for Spotlight PA and Votebeat
Trump campaign moves to stop vote count, block late-arriving ballots
3:30 p.m.
President Donald Trump vowed to challenge Pennsylvania's election results in court on multiple fronts Wednesday, even as the commonwealth continued its painstaking process of tallying the vote.
Repeating thus far unfounded claims that the Democrats in Pennsylvania were "scheming to disenfranchise and dilute" the GOP vote, his campaign said it planned to file three legal challenges — including one that would seek to temporarily halt vote counting in the state over claims that Republican canvassing monitors had been kept too far away to meaningfully observe the process.
It also said it would join the still lingering case before the U.S. Supreme Court seeking to overturn a lower court order allowing the commonwealth to count mail ballots that arrived after Election Day, as long as they were postmarked by Nov. 3.
"The eyes of the country are on Pennsylvania, but Pennsylvania has kept eyes off the absentee ballot counting process all along, and that must stop today," the campaign said in a statement.
The third legal challenge outlined by the campaign centered on what the campaign described as a last-minute change to deadlines for first-time voters to provide ID with their absentee and mail-in ballots. The campaign did not say whether it would pursue those cases in state or federal courts. — Jeremy Roebuck of The Philadelphia Inquirer
The months-long political saga that guaranteed a long vote count in Pennsylvania
It didn't have to be this way in Pennsylvania.
Yes, the state's universal mail voting law is only a year old. Yes, this is the first general election test. And yes, the coronavirus pandemic caused a tidal wave in mail ballots, with more than 2.5 million cast.
Despite all of that, the delay in results from Pennsylvania — now the focus of an eager nation awaiting the outcome of the presidential election — was not inevitable, but instead the product of a contentious disagreement between state politicians.
For months before the election, county leaders across the state — Democrats and Republicans — pleaded with the GOP-controlled legislature to give them time to process mail ballots before Election Day. That includes verifying ballots, opening them, flattening them for a voting machine, and tabulating them.
But in the end, the legislature did not pass a bill Wolf said he would sign. — Cynthia Fernandez of Spotlight PA
York County will do 'deep dive' into long lines
2:30 p.m.
York County elections officials will review what problems caused some voters to wait more than four hours to vote at Northeastern Middle School on Tuesday.
"We're going to do a deep dive into what worked, what didn't," said President Commissioner Julie Wheeler.
Wheeler said coronavirus restrictions on the number of people allowed in a room was one possible reasons for the delays. This was also the first year that East Manchester Township voters cast their ballots at the middle school.
The new mail-in voting process created complications at the polls, Wheeler said. Some voters requested a mail ballot, never received it, and had to cast a provisional ballot in-person. Others had received a mail-in ballot but chose to vote in-person.
"All of those things take time," Wheeler said.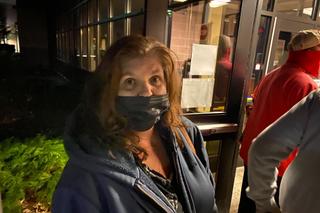 It's not clear why mail changes would have caused more problems at Northeastern than other polling places.
In response to long lines, the county sent extra poll workers to Northeastern, as well as to polling places in Hopewell and Springfield townships. The Northeastern polling location is for a Republican-leaning precinct that Trump won in 2016 and unofficial returns show him winning again this year.
On election night, more than 300 people were waiting outside the middle school to vote at 8 p.m., the official closing time for the polls. Pennsylvania allows voters in line by 8 p.m. to vote. The last voter left Northeastern around 10:30 p.m.
Wheeler said she was at the administrative center until about 2:30 a.m. to finish counting mail and in-person ballots. An issue with the county and Department of State systems prevented mail results from showing up on the state website as of early Tuesday afternoon, although the county posted the results on its website.
What's left to count? Provisional ballots — the county didn't have an estimate for how many were cast that way on Tuesday.
Wheeler said there are also a few ballots that had nicks or tears that couldn't be scanned on Tuesday. There is still time for military and overseas absentee ballots to arrive.
The state Supreme Court ruled in September that counties can count ballots that arrive by 5 p.m. Friday, as long as they were postmarked by 8 p.m. on Election Day. Ballots with an illegible or missing postmark can also be counted, if there's no proof they were mailed too late. York County will sort those ballots based on whether they have a clear date stamp for their postmark or not. But the county is holding off on counting those ballots until legal challenges are resolved.
"We are not going to touch them until we get a ruling. We do not want to damage the integrity of that envelope," Wheeler said. — Ed Mahon of Spotlight PA
'This is a new system'
Noon
During a Wednesday morning press briefing, Gov. Tom Wolf and the state's top election official, Kathy Boockvar, said counties were still processing more than a million mail ballots, a trend likely to continue into the evening.
"The delay that we're seeing is a sign that the system is working. This is a new system," Wolf said. "And there are millions of mail-in ballots that are being counted. That takes longer than the way we used to do it with the in-person voting. We may not know the results even today, but the most important thing is that we have accurate results."
Boockvar said nearly half of all mail ballots had been counted "but there are still millions."
"The counties are working incredibly hard. You're gonna see a lot of updates in the next couple of hours and throughout the day," she said. "We are going to accurately count every single ballot." — Cynthia Fernandez of Spotlight PA
Mail ballot count began Wednesday in some counties
11:20 a.m.
In Cumberland County, workers started counting mail-in ballots at 9 a.m. Wednesday. The county was one of a handful in the state that decided not to pre-canvass these ballots until after Election Day, leaving total counts in flux.
Bethany Salzarulo, county elections director, said Wednesday morning she was unsure how long it would take to count the 52,940 mail ballots returned so far. A team of people are processing the ballots and are going for "accuracy, not speed." — Joseph Darius Jaafari of Spotlight PA
'Glitch' keeps York County mail ballot returns from showing up on state website
11:08 a.m.
On Wednesday morning, the Department of State website reported that York County had counted none of its more than 76,000 mail ballots.
That's a "glitch," said county spokesperson Mark Walters, and the county and state are working to fix it. Walters said the county has counted all mail-in ballots it received by 8 p.m. Tuesday.
The Department of State website reports Biden received 29,667 votes compared to 97,333 for Trump. Those results give Biden nearly 23% of the vote.
Election results posted on the York County government website show Biden doing better. Those totals include more votes than what the Department of State website has posted. The county records say Biden has received 85,073 votes, compared to 142,934 for Trump. Those results give Biden nearly 37% of the vote, not counting unresolved write-ins.
In 2016, Democrat Hillary Clinton won 68,524 votes in York County or 33 % of the vote. — Ed Mahon of Spotlight PA
Halfway there in Allegheny County
11 a.m.
Allegheny County election workers counted ballots into the early morning Wednesday, breaking at 2:45 a.m. with plans to resume counting the remaining 146,537 mail ballots around 10 a.m.
So far, the county has scanned and uploaded 173,068 of the 348,485 mail ballots that have been returned, according to a 3 a.m. update provided by county Communications Director Amie Downs.
Votes from 1,296 of the county's 1,323 precincts were recorded as of 3 a.m. Wednesday.
In Westmoreland County, 170 of the county's 307 precincts were reporting by 2 a.m. Wednesday.
Westmoreland County election officials could not be reached for comment Wednesday morning, but a statement posted to the county Elections Bureau website said that results so far include ballots cast in-person on Election Day and absentee ballots.
Mail-in ballots are expected to take several days to upload and count, the statement said.
The county started processing mail ballots around 10:15 a.m. Tuesday. — Jamie Martines of Spotlight PA
'This isn't a race,' says Lehigh County official of ballot counting
10:30 a.m.
When Lehigh County Executive Phil Armstrong was getting texts a little before midnight on Tuesday with people asking about election results, his response was calm, even as he was trying to keep his cool.
"Slow and steady," he texted back, before falling asleep around midnight. Around then, county employees were still counting the more than 71,000 ballots cast by mail, he said.
He gave the same answer Wednesday morning, when asked when he thought Lehigh County employees would count the remainder of the ballots — about 45,000 at around 9 a.m., he estimated. He said employees were back at it at 5:30 a.m.
"This isn't a race. We're not in competition," he said.
By 9:45 a.m. Wednesday, President Donald Trump led the county by 52.75%, with Vice President Joe Biden leading the mail ballot totals. About 103,000 people voted in person.
Despite not seeing any major problems in the county on Election Day, Armstrong said there was an "unbelievable lesson" to be learned for a culture that is used to "instant gratification" when it comes to getting results.
"They have put in a system where that's impossible unless they allow the counties to start several days prior," he said, referring to the Pennsylvania legislature's decision to not allow counties to begin processing mail ballots until 7 a.m. on Election Day. "They've got to come up with a better idea."
Armstrong said throughout the day yesterday, election officials were notifying voters if there was a problem with their mail ballots, including if ballots lacked secrecy envelopes. The state Supreme Court said counties had to discard such ballots — known as "naked ballots" — and a group of Republican candidates and voters sued late Tuesday night to require counties to set aside any ballots that voters were allowed to fix.
"We were trying to contact voters if there was still time to get them," Armstrong said. "We want every vote to count. We didn't care if it was an R or a D."
He said by midnight Tuesday, Lehigh County had a "huge tray" of about 400 provisional ballots, cast by voters for a variety of reasons, including those who may have requested a mail ballot but didn't receive it in time.
As for the ballots that came in after 8 p.m., Armstrong said county officials are following the guidance of Secretary of the Commonwealth Kathy Boockvar and setting them aside without counting them, as the state waits to see whether the U.S. Supreme Court takes up the issue. — Marie Albiges for Spotlight PA and Votebeat
Over 70% of mail ballots counted in Lancaster County
9:57 a.m.
In Lancaster County, the results of in-person voting show President Donald Trump winning by 62.5%, a more substantial lead over the Democratic candidate than in 2016, when he took 56% of the vote. But these numbers fail to account for the outcome of 91,000 mail-in ballots that are still being counted.
As of 8:30 a.m. Wednesday, Lancaster County Commissioner Ray D'Agostino said 67,000 of the ballots, or 73%, had been counted. A small crew worked through the night scanning ballots into a system that proved slow to process voting information, significantly delaying results originally expected promptly Tuesday evening.
It is unknown how many more mail-in ballots the county will receive between now and Friday or if these votes will ultimately be counted. The state Supreme Court ruled that counties can count late-arriving ballots, but possible intervention by the U.S. Supreme Court led the state to direct counties to segregate these ballots. About 15% of the roughly 108,000 ballots mailed out by the county have yet to be returned. — Rebecca Moss of Spotlight PA
Pa. still needs to count 1.4 million mail ballots
9 a.m.
It's Wednesday morning in Pennsylvania, and there are still more than a million mail ballots left to count. Here's what you need to know:
As of 9 a.m., there were 1.4 million mail ballots left to be counted. That includes thousands in Philadelphia and its blue, collar counties. You can monitor that progress here.

Because of a state Supreme Court ruling, counties can accept and count mail ballots that arrive by Nov. 6, so long as they were postmarked by Election Day or there isn't proof they were sent too late. The U.S. Supreme Court declined to take up a GOP challenge to that ruling on an expedited basis, but could still intervene.

On Tuesday, a group of Republican candidates and voters sued the state's top election official, claiming she gave counties faulty guidance when she told them they could share information with political parties about voters whose ballots had problems. It's unclear how many ballots would be affected by a ruling for the GOP. There is a hearing this morning, and we'll have updates soon.

State election officials will brief the press on mail ballot progress and other election-related topics at 10:30 a.m. You can watch that press conference at https://governor.pa.gov/live/.
Final dispatches from Election Day 2020
Midnight
At 8 p.m., more than 300 people stood in line outside of Northeastern Middle School in York County, waiting to vote.
For Micaela Miller, 34, it was her second time at the school. In the morning, she waited three and a half hours to vote. Her three kids — ages 1, 4, and 8 — joined her that time. She returned shortly before 8 p.m. to offer support to her friend, Lacey Delp. This time, she brought chairs, blankets, hot chocolate, and snacks.
Throughout the day, community members sent pizza, hot chocolate, water, and other items to people waiting in line at the York County school.
"We do what it takes. We have the right, so we might as well use it," Miller said.
Greg Blymire, a Republican poll watcher, said the problem wasn't voting machines. Instead, he said the poll workers were sorting voters alphabetically in a way that created a bottleneck. And he said poll workers were limiting the number of voters in the room to about 25, which he said was stricter than other polling stations.
"It was just set up," Blymire said. "I don't think that they were prepared for something like that."
Late Tuesday evening, poll watchers made changes, and the line moved more quickly. Poll workers declined to comment.
For many, the experience was an inconvenience. For others, it was worse.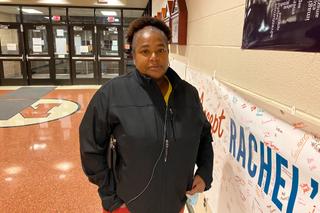 Candace Wright, a baker, woke up at 5:30 a.m. Tuesday for work. She said she showed up at a polling place at a fire station early in the afternoon after she finished work. A poll worker looked up her name and told her she was supposed to vote at Northeastern Middle School, Wright said.
She waited several hours in line. Then a poll worker at Northeastern told her that she was in the wrong spot and was supposed to vote at the fire hall, she said. By that point, it was too late to go there.
"That just hurts, because my vote counts just like anybody else's," Wright said while standing in a hallway at about 9:15 p.m. "And I'm not understanding why I can't vote."
Wright, who is African American, said her grandparents marched for the civil rights movement. She wanted to send a message with her vote.
"If you don't stand up, who is going to stand up?" Wright said.
Wright left the building. But then she met with a state representative, Republican Mike Jones, outside. Wright said Jones spoke to the judge of elections, and she ended up filing a provisional ballot, which can be challenged.
"So now, I just got to wait and see," Wright said.
She left around 10:15 p.m., one of the last voters to leave for the night. — Ed Mahon of Spotlight PA
***
Winding through unlit roads, trucks weaved swiftly through Manheim Township and pulled into the Mastersonville Fire Company parking lot in the final hours before polls closed on election night.
"It's our duty and I know what I want out here," said Danon Sensenig, 26. "It will affect us around here, and not just here."
He stood with a group of friends, who murmured their agreement, huddled in sweatshirts.
"Both sides are completely different. It's one side or the other," Jessica Manwiller, 22, said, holding her seven-month-old son, Casen. "It's really a big time to vote what you believe in."
Manwiller voted for President Trump because she believes, "right now, currently, we are on the best track we can be. If we go the other way, things will be taken away. Things will be given that shouldn't be," she said.
Many Manheim voters had cast their ballots for Republicans.
Kimberly Martin, 32, who owns a painting company with her husband, voted for Trump for the second time, saying, "I think it's going to work out for the best."
Tina Valle, 52, had spent a long day at the intensive care unit of the hospital where she works as a nurse. She hadn't wanted to vote at all this year at all, "because of the nonsense."
"I don't think we are going to know who the president is tonight," she said, laughing dryly.
Her husband, Mitchell, however, said he was "damn proud" to cast his vote for Trump.
"My feelings are the same as they were four years ago," he said, but "the hate has got to stop. It's biblical."
For 22-year-old Kyle, who asked not to use his last name for privacy, voting for Biden was the lesser of two evils. His blue surgical mask was stained with chocolate ice cream after a shift at nearby Turkey Hill.
"I was hoping for Bernie," he said. "His views kinda align with what I want, but I think Trump is kinda dumb."
Twenty miles away in Lancaster, people expressed more optimism for a Biden presidency.
Jennifer Potter, 51, and her daughter, Olivia Potter, 20, had volunteered to work together as poll watchers on election eve.
"It has been quieter than work," said Jennifer Potter, who is a chaplain at Women and Babies Hospital at Lancaster General Hospital.
She is a registered independent but last voted Republican for Sen. John McCain, saying, "I am a never Trumper."
"I wanted to make sure people could vote without intimidation," she said.
"It's given me so much hope," said Olivia Potter, a junior at Temple University studying printmaking, after voting and volunteering Tuesday.
"Everyone said, 'be safe,' and I felt nothing but kindness and warmth from people."
The mother and daughter remained at the otherwise vacant doorway to the community center, waiting in the cold as the clock inched closer to 8 p.m.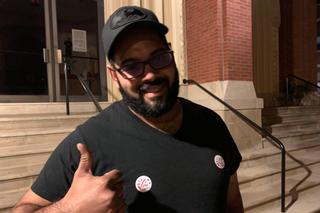 Martin Rodriguez, 31, was counting on those final minutes. Dressed in a black T-shirt, he arrived at nearby St. Anthony's Catholic Church 14 minutes before the polls closed.
"I got out of work and shot straight over here," he said. In 2016, he'd overslept and arrived at his polling location after it closed — a vote intended for Hillary Clinton. This year he voted for Biden. He placed round stickers on either side of his chest that read, "Mi Voto Cuenta."
Voting in-person, he said, "It means more."
Standing near the darkened church steps, Natalie Justiniano-Njoroge, a district representative and committee person with the Lancaster City Democrats, said 13 hours of steady voting were marked by optimism and little incident.
"I'm excited about the amount of new voters that came out, and people who hadn't voted in years, people struggling to walk and move and they cast their vote," she said. "People know the significance of this election and that has me motivated."
As she spoke, the hollow sound of church bells began to toll, echoing eight times into the night. — Rebecca Moss of Spotlight PA
Top election official brushes off Senate GOP's call for her to resign
11:30 p.m.
The top Republicans in the Pennsylvania Senate called on Secretary of the Commonwealth Kathy Boockvar to resign Tuesday night, arguing she had issued guidance that "fundamentally altered the manner in which Pennsylvania's election is being conducted."
Senate President Pro Tempore Joe Scarnati (R., Jefferson) and Majority Leader Jake Corman (R., Centre) claimed Boockvar "changed the rules … on November 2 when [the Department of State] provided last-second guidance directing counties to provide information to help voters whose mail-in or absentee ballots were incorrectly completed so those voters could vote on a provisional ballot."
"There is no basis for this guidance in current law," the Republicans said. "The secretary created this new process out of thin air."
Scarnati and Corman were referencing actions by some counties to inform voters that their mail ballots were deficient in some way. The issue is now the subject of a lawsuit.
"I have no intention to resign," Boockvar said during an 11 p.m. press briefing. "Frankly I think they are the ones who should resign." She cited the legislature's failure to pass legislation that would have allowed counties to pre-canvass mailed ballots before Election Day. — Cynthia Fernandez of Spotlight PA
Mail ballot counting will continue Wednesday
10 p.m.
Despite early optimism that the bulk of mail-in ballots would be counted by 8 p.m., Lancaster County Commissioner Ray D'Agostino said around 38,000 mail-in votes had been counted an hour after polls closed Tuesday, just under 50%.
While scanners are working well, scanning 6,000 ballots per hour, the software reading the ballots is moving far slower than expected, making it unlikely for the county to have a clear sense of results until Wednesday.
A small crew will be working through the night at the county convention center to finish counting the remaining roughly 40,000 ballots that were received as of Saturday. A second batch of ballots, received Monday and Tuesday, which D'Agostino estimated between 10,000 and 20,000, will be scanned tomorrow, likely into the afternoon.
D'Agostino said aside from long lines at some polling locations, there were far fewer problems compared to the June primary.
"We are on track for a record," he said, with voter turnout expected to be as high as 80%. "It's just great to see such passion." — Rebecca Moss of Spotlight PA
---
Butler County will likely not report final results until the Monday or Tuesday after Election Day, County Solicitor Wil White said Tuesday night.
The county will give a daily update on the vote count starting Wednesday night, White said. That tally is expected to include all votes cast at precincts on Election Day, along with at least 80% of mail ballots.
White estimated that more than half of provisional ballots filled out at polling sites Tuesday were marked as potential duplicates because voters did not surrender a ballot at the polls.
The county will not be able to start counting those ballots until after 5 p.m. Friday, in case mail ballots also submitted by those voters arrive within the three-day window after Election Day, White said. — Jamie Martines of Spotlight PA
---
Officials in Philadelphia, where more than 350,000 mail ballots were returned, said they will continue counting those votes Wednesday.
In some counties, the process won't even begin until tomorrow.
Apologies for the confusion.

Final tweet to clarify that City Commissioners "expect" to provide another mail ballot count update between MIDNIGHT and 1AM.

Then there will be further updates tomorrow approx:
9 AM
3 PM
9 PM

— Max M. Marin (@MaxMMarin) November 4, 2020
Election Day went 'remarkably smoothly,' top election official says
9:47 p.m.
Gov. Tom Wolf and Pennsylvania's top election official, Kathy Boockvar, said Election Day went "remarkably smoothly," without many surprises. Now, it's time to wait.
"Across the state, county workers are working to make sure that every person's vote is counted," Wolf said during a 9 p.m. press briefing. "Counting that tremendous number of ballots will take longer than we're used to, but the extra time is just there because we want to make sure that our election system is working that each and every vote is counted."
Sec. Kathy Boockvar: There were a few reports of voters feeling intimidated. One person accidentally shot himself with a gun. https://t.co/VsiiEoMe8B

— Spotlight PA (@SpotlightPA) November 4, 2020
Responding to a GOP lawsuit seeking to throw out mail ballots that were "cured," Boockvar said she does not believe her guidance broke state law. "It's not an overwhelming number of voters who were in these positions," she said. "I don't think this is going to be a huge issue, no matter which way it goes."
"That was an opportunity for all parties, all candidates to choose to contact the voters to let them know that they had a deficiency in that they could go up by provisional ballot," she said. — Cynthia Fernandez of Spotlight PA
Republicans seek to sideline Pa. mail ballots that some voters were allowed to fix
9:14 p.m.
Inside the spacious exhibition center at the York Fairgrounds, dozens of county employees on Tuesday sorted through thousands of mail ballots in the lead-up to the close of polls.
If they came across "naked ballots," or ballots that lacked a secrecy envelope, they alerted the political parties. The parties could then contact voters, tell them there was a problem, and urge them to fix it.
But in neighboring Dauphin and Lancaster Counties, voters who mailed in naked ballots, or made some other mistake, will never get the chance to fix them, because officials there believe the law does not allow them to do anything but reject ballots that contain mistakes.
As Pennsylvania's 67 counties began the painstaking process of processing and counting more than 2.5 million mailed ballots, whether or not voters were given a chance to fix errors and ensure their votes were counted depended largely on where they lived.
That inconsistency is now at the heart of an eleventh-hour lawsuit filed Tuesday by a group of Republican candidates and voters seeking for counties to set aside any ballots that voters were allowed to fix.
The final voters of 2020
9 p.m.
Running inside with two minutes to spare, Edward Holley, 50, was the last person to vote at the Forks Township Community Center in Northampton County. He said he tried to vote this morning before heading to work as a bartender, but the line was too long, and he finished working right before polls closed.
He said he was undecided until Monday. But with the task at hand finally completed, he said he was joining his friends at a local bar for a beer.
"I didn't even want to vote, to be honest," he said. — Marie Albiges for Spotlight PA and Votebeat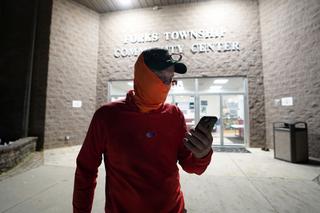 ---
Dustin Geagan and Brittany Kloes were likely among the last voters to bank their ballots in Butler County.
Moments before 8 p.m., Geagan and Kloes — both first-time voters — busted through the doors of the Butler County Government Center to drop their mail ballots in the lobby drop box.
"The entire way here, I was like, 'We're not gonna make it,'" Kloes, 25, said.
"We had to at least try," Geagan, 24, said.
A side job kept Geagan working late. Kloes was his ride to the polls — the two had planned to vote together — and he kept her waiting.
They breathed a sigh of relief as sheriff's deputies locked the doors behind them. Their ballots, both cast for Trump, were carried to the lower level of the government center to be counted. — Jamie Martines of Spotlight PA
The polls are closed. Here's how to monitor the results.
8 p.m.
Most polls in Pennsylvania are now closed, though voters who are in line should stay there. You are entitled to cast a ballot.
Now, election officials have to tally all the different kinds of votes — in-person, mail, and provisional (cast when a voter's eligibility is in question). The head of elections in Pennsylvania, Kathy Boockvar, and county officials are confident the overwhelming majority of votes will be counted by Friday.
The state has launched a new dashboard for you to track the vote counting over the next few days, and see how many of the different types of ballots are still outstanding. If you don't want all of that detail, you can use their more simplified results page.
So could we still have a projected winner tonight?
Sure, it's possible. A lot of states will be able to report results tonight much like they do normally, and if President Donald Trump or Vice President Joe Biden jump out to a commanding lead or are projected to win certain swing states, we could have a pretty good idea of the winner.
But if the race isn't clear tonight, or if it hinges on Pennsylvania, expect to wait several more days. And don't be surprised if you see a lot of legal wrangling over votes here. — Chris Baxter of Spotlight PA
Read more: When do we find out who won the 2020 election
Quiet polls at the end of Election Day in Butler County
7:50 p.m.
Last-minute voters in the City of Butler were pleased to find no lines after polling places across the county reported record turnouts and hour-long waits throughout the day.
Melessie Whittington, 36, rushed to change her clothes and get back out the door after finishing the work day, but was shocked to see that her polling place — a Salvation Army outpost in downtown Butler, one of six polling places in the city — was quiet by 6:30 p.m.
It only took moments to cast her vote for Biden. "We need change," Whittington said.
It was a similar situation at the nearby VFW Post 249, where the stream of voters slowed to a trickle by the final two hours of voting. First-time voter Brandi Benninger, 24, won't be watching the returns come in tonight — the lead-up to the election was overwhelming enough, and she has a five-year-old son to keep her busy, she said.
"It was high-anxiety, that's for sure," she said. Voting on Tuesday night, however, was quick and easy.
At 7:30 p.m., with a half-hour to go until the polls closed, Catherine Lalonde was on her way home. It was quiet in Butler County.
"I think it went pretty well," Lalonde, who is chair of the county Democratic Committee, said. "It was peaceful."
Polls that were busy early in the day — including those in Cranberry, Lancaster, and Zelienople — had mellowed by the evening, Lalonde said.
She heard some reports of poll workers who were confused about how to handle mail ballots that voters wanted to surrender at the polls, but those issues were resolved quickly, she said. — Jamie Martines of Spotlight PA
Long delays reported at York County polling place
7:30 p.m.
At Northeastern Middle School in East Manchester Township, Jim Smith said he waited more than four hours to vote. Denise Slick, meanwhile, arrived to vote at 4 p.m. She was still waiting as of 7:30 p.m.
Cheryl Flaharty, 62, arrived at Northeastern Middle School at 3:30 p.m. She walked out at 7:30 p.m., having finally voted.
"It is a mess," she said. "It is entirely too long to wait." — Ed Mahon of Spotlight PA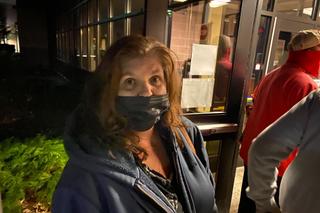 Pa.'s polls close at 8 p.m.
7:15 p.m.
Attention voters: Polls close at 8 p.m. If you get in line by then, you'll be able to cast your ballot.
In a video message, Gov. Tom Wolf asked for patience.
"Across the state, dedicated county workers are ready to tirelessly make sure everyone's vote counts," Wolf said in a recorded message. "But counting that tremendous number of ballots will take more time than we are used to." — Sarah Anne Hughes of Spotlight PA
Hectic morning leads to calmer evening in Forks Township
7 p.m.
In Forks Township, Northampton County, a mother and daughter duo are running the show at two precincts inside a community center, and they said they hope to be home in bed by 11 p.m.
Jessica Reger serves as the judge of elections for the Forks West Ward 2 precinct, while her mother, Sue Glovas, is the judge for Forks West Ward 1.
"It was a zoo here until 10 a.m.," Glovas said. "There was so much talk about (voting in person), people were stressing."
By 6 p.m., the crowds had become a trickle. Reger and Glovas said they each had about 40 to 50 people vote by provisional ballot because they had applied for but hadn't received their mail ballots, and another 30 to 40 people in each precinct turned over their mail ballot to vote in-person on the machines.
Both said turnout was normal for a presidential election year, and reported relatively quiet crowds Tuesday, with one exception where voters in line were arguing about something — but they didn't say what.
"I think it helps that we have a tight community," Glovas said.
In about an hour, once the last person in line at 8 p.m. has voted, they and other judges across the county will pack up all their materials, including the USBs from each voting machine containing the unofficial results, and turn it over to county election officials at the courthouse for counting.
"It's like insanity over there" after polls close, Glovas said.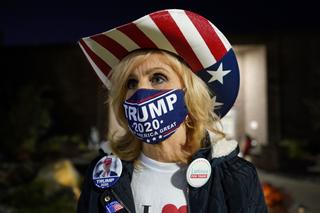 Nancy McKay-Rosa, who owns a Dunkin' Donuts franchise and has lived in Forks for 20 years, has been out at the polls since early Tuesday morning decked out in a Trump mask, cowboy hat, shirt, shoes, and buttons.
Speaking to Spotlight PA at the Forks Township Community Center at around 6 p.m., she said she'd had a smooth day while greeting people and handing out campaign materials.
"I'm like, 'hey, I love you all, but if you're a Trump voter, I might love you a little more,'" she said with a laugh. — Marie Albiges for Spotlight PA and Votebeat
The first general election without straight-party voting? It 'sucked'
6:50 p.m.
At the Bushkill Township fire company Tuesday afternoon, Tara Zrinski was practicing the art of persuasion with voters in line.
An Easton City Council member running for state representative, she was looking for voters who perhaps hadn't decided on a candidate in down-ballot races.
Trump won Bushkill Township by 62.9% of the vote in 2016.
Zrinski said she knew it would be hard to find voters there who supported her, but said she was pleasantly surprised.
"It was actually a lot more positive than I thought it would be," she said.
Coming out of the polling place, 73-year-old W. James Holinka called himself "old fashioned" for wishing straight-party ticket voting was still available. The Pennsylvania legislature eliminated it last year.
"It should be back," he said, adding It "sucked" selecting each candidate one by one. — Marie Albiges for Spotlight PA and Votebeat
GOTV effort in Erie focused on young voters of color
6:42 p.m.
At the John F. Kennedy Center in Erie, restaurant manager Angie Edinger, a Trump voter who sat out the last presidential election, said she was able to walk in and vote easily with only three or four people ahead in the line.
"I even forgot my glasses and I had no trouble reading it," Edinger said, referring to the ballot.
By 6 p.m., the polling site had slowed to a trickle. Camping chairs used by electioneers were empty and only election protection volunteers stood outside.
Gary Horton, president of the Erie Chapter of the NAACP, was out all day organizing a nonpartisan get-out-the-vote effort in the city that paid special attention to young voters of color.
"I think somewhere around 4, we had at least reached the turnout in our most important polling place from 2016," Horton said, referring to the JFK Center.
He said he heard of no major complaints from voters throughout the day at the polls. — Tom Lisi for Spotlight PA and Votebeat
In Hazleton, one voter hopes the presidential winner will 'keep in mind the Latinos'
Outside the Catholic Social Services Family Center in Hazleton, about 30 people waited along the side of a windswept parking lot where two small children were playing with a ball. By 2 p.m., observers said the line was as short as it had been all day; at one point, there was an hour-and-a-half wait, they said.
Estephany Infante said she had missed the deadline to apply for a mail-in ballot and was waiting near the back of the line to vote for Joe Biden. Infante, 30, said it's her first time voting in Pennsylvania and she hopes the process of counting the results doesn't drag on for too long. "I just hope that whoever wins will keep in mind the Latinos. That's very important to me," she said.
Closer to the front, Nancy Mensinger said she had taken a few hours off work to make sure she'd have time to vote. Mensinger, 71, said she had voted for Democratic candidates for most of her life, until around 2008 when she did not vote for Barack Obama. "They're not my party anymore," she said.
Louise Mitchell, who traveled from her home in Baltimore to volunteer for the state Democratic Party, said she arrived in Luzerne County this morning. She had come to Hazleton after friends told her more help was needed here. Mitchell, 60, said she spent Saturday knocking on doors in York, and Sunday and Monday doing the same thing in Harrisburg. "I had to keep reminding myself that, collectively, it's making a difference," she said. — Charlotte Keith of Spotlight PA
Officials expect Butler County to 'shatter' turnout records
Long — but steadily moving — lines were the norm across Butler County, where average wait times were 50 minutes to an hour at the county's 89 polling places.
"We're very impressed with voter turnout in District 10," said Liam Watters, field director for Democrat Kolbe Cole's campaign to unseat Republican incumbent Rep. Aaron Bernstein in the state House.
Butler County election officials confirmed that as of 3:45 p.m., 31,191 of the 38,795 ballots that were mailed to voters had been returned. Based on mail ballot counts and the length of lines at the polls, officials are confident that the county will "shatter" voter records.
Of the 143,049 registered voters in Butler County, 43,548 are registered Democrats and 79,480 are Republicans.
Trish Lindsay, vice-chair of the Butler County Republican Committee, said she had seen high turnout at polling places but was not aware of any major issues. Her main concern was confusion over what to do with mail ballots that voters bring with them to the polls, hoping instead to vote in person at their polling place.
"All we want to do is have every vote count," Lindsay said.
Similar issues were reported to the Cole campaign, Watters said.
In a statement, Butler County election officials said that they did not receive calls about voters who were turned away over mail ballots. They did receive reports of voters who tried to vote at the wrong polling place, along with a shortage of supplies like ballots and pens used to hand-mark ballots that had to be replenished throughout the day.
Pennsylvania voters can bring their mail ballot materials with them to polling places to be voided. Once they surrender those ballots, they may vote in person with a regular ballot. They do not need to use a provisional ballot.
A similar problem arose in Westmoreland County on Tuesday morning, where some judges of election turned away voters who showed up at the polls with their mail ballots, the Tribune-Review reported.
Judges of election in the county were reminded of the correct process for handling surrendered mail ballots, Westmoreland County Commissioner Sean Kertes told the Tribune-Review after a reporter followed up on reports of voters who were turned away. — Jamie Martines of Spotlight PA
Civil rights groups report isolated, sporadic incidences of potential intimidation
Pennsylvania and Texas split 24% of the 22,000 calls received by civil rights groups across the country as of 3:50 p.m. on Election Day regarding voter concerns, but none of them exposed any major systematic issues.
Leading a press call, President Kristen Clarke of the Lawyers Committee for Civil Rights Under the Law, which is overseeing 42,000 legal volunteers across the country, said that Florida came in third, followed by New York and Michigan. Most complaints, Clarke said, were similar to ones from 2016, when poll workers asked for identification when it wasn't required.
The second tier of calls was about potential intimidation, but for the most part, these were isolated and sporadic, she said. Citing lower voter turnouts with early voting and mail-in ballots, she said a lack of chaos speaks "to the success of historic voter protection."
She did not dismiss issues that have alarmed Pennsylvania voters, even if they weren't widespread. She pointed to a report of a constable blocking the door of a polling place in Williamsport, Lycoming County.
.@commoncausepa's Suzanne Almeida said they have been surprised by the number of reports they have received about heavily armed constables standing outside polling places. They are allowed to be there but voters are feeling intimidated or threatened by their presence

— Jan Murphy (@JanMurphy) November 3, 2020
"It's unclear whether this individual has removed himself, but he is in some kind of uniform and bearing weapons and very overtly blocking the entrance to the polling site. People have reported that they do feel intimidated by his presence," she said.
The committee's partner Common Cause Pennsylvania addressed similar reports in Lancaster, Cumberland, and Dauphin Counties, noting that constables are allowed at polling places.
Still, it's concerning, Clarke said. — Kamala Kelkar of Spotlight PA
Some Pa. voters are surrendering mail ballots to cast votes at the polls
5:53 p.m.
From The Philadelphia Inquirer's live blog:
"Brian Marsh, 41, should have been able to cast his vote in Philadelphia on a machine after turning over his mail ballot. But the poll workers incorrectly had him fill out a provisional ballot instead.
He is not the only voter attempting to turn over a mail ballot to a poll worker to vote in person instead. Other voters told the Inquirer this week they were planning to do the same, worried that President Donald Trump might prematurely declare a victory before all the mail votes are counted."
Judge extends poll hours at one Scranton location
5:30 p.m.
In Lackawanna County, voting machines at a polling place in Scranton were down for 45 minutes earlier in the day, said Joseph D'Arienzo, the county director of community affairs. The polling place at John F. Kennedy Elementary School will stay open until 8:45 p.m., after a Court of Common Pleas judge granted a petition by the local Democratic Party.
D'Arienzo said it was the only polling place in the county to have this problem. — Charlotte Keith of Spotlight PA
A 'much slower' day in Gettysburg than anticipated
5 p.m.
Around sunset, a small stream of people headed to a Gettysburg firehouse to vote. At the local recreation center, another polling location, one worker said there were three people inside.
Election Judges Jocelyn Swigger and Tammy Myers said that they had prepared for a day of long lines and "shenanigans," but that very little had actually happened.
"It's much slower than I thought it would be," Myers said. — Joseph Darius Jaafari of Spotlight PA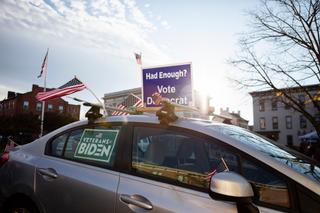 Mail ballot results delayed in Lancaster County
5 p.m.
Lancaster County now says it will not have mail ballot results by 8 p.m.
While pre-canvassing — the process of removing ballots from an internal envelope and laying them flat — went smoothly, the work of scanning the ballots to count each vote has proved more difficult and created a bottleneck. Most volunteers were told they could leave around 3:30 p.m. while tens of thousands of ballots waited to be scanned. By 4:30, about a quarter of the ballots had been counted, but Commissioner Josh Parsons said results are expected to be delayed well after 8 p.m.
"We are not going to have them all done at 8," he said. "That's for sure." — Rebecca Moss of Spotlight PA
Why one Lancaster County resident did not vote
4:40 p.m.
Carla King did not vote.
On Tuesday afternoon, she sat with her 2- and 4-year-old children outside a cafe in East Earl, Lancaster County, handing them pieces of a sandwich while they navigated a toy tractor and made her cups of tea filled with air.
"It's kind of a long, drawn-out answer," King said, but ultimately she felt it would be wrong to put any president in office if she could not fight in his future wars.
"It's not fair for me to exercise some of my rights [in voting] … and then refuse to do my part as a citizen in going to war," the 37-year-old said. "We try to do our part in the community where we live."
King, who is Mennonite, lives with her husband in Lancaster city, where she teaches English as a second language. She said she has lived abroad, hosted foreign exchange students from countries where the United States has waged long wars, and she could not take another life. She contributes to the community in ways other than voting.
"I pray for the country, I pray for our president, but I didn't vote today." King said. "I will stay up late listening. But I didn't vote." — Rebecca Moss of Spotlight PA
Social media rumor, debunked
4:30 p.m.
From the Erie Times-News:
"Erie County Board of Elections Chair Carl J. Anderson III on Tuesday afternoon debunked a social media rumor that a supposed poll worker had thrown out ballots from voters who had supported President Donald Trump.
'Erie County has checked into the unfortunate claim being shared across social media by someone saying they are working as part of the Erie County Board of Elections and throwing out ballots,' Anderson said in a statement.
'The person making the statements does not work in any way with Erie County or have any part of Erie County's election process. In fact, the individual is not a registered voter and is not believed to be a resident of Erie County, Pa.'"
A Twitter spokesperson also told a CNN reporter the company had "taken action on multiple tweets and videos containing potential election misinformation in Pennsylvania."
A Twitter spokesperson confirms the company has taken action on multiple tweets and videos containing potential election misinformation in Pennsylvania.

— Donie O'Sullivan (@donie) November 3, 2020
Fears of voter intimidation in Chambersburg 'overblown,' police chief says
4:20 p.m.
At almost 1 p.m., officials said there had been no signs of blatant or nefarious voter intimidation in the Chambersburg area of Franklin County. Such a possibility was a concern in the wake of 40 days of civil rights protests sparked by the police killing of George Floyd.
Those marches were unprecedented, says city Chief of Police Ron Camacho, who previously served 18 years in York City as a captain.
But despite the city's summer of unrest, and the rumbling of possible militia showing up at polling locations, Camacho said that the hype for possible intimidation had been overblown.
"If something was going to happen, we would've known about it," he told Spotlight PA. A report by the Armed Conflict Location & Event Data Project found that Pennsylvania was one of five states that could face voter intimidation by armed militias around Election Day, which led Camacho to prepare for a worst-case scenario.
"It was all overblown," Camacho said. He added that while trying to figure out how to respond to possible voter intimidation, he was frustrated with an apparent catch-22 in dealing with voter-related calls. "They want us to protect the polls, but then they also don't want us at the polls."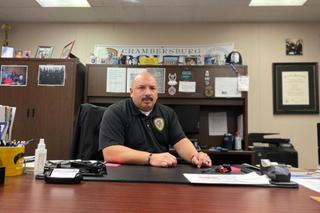 State law forbids police from being within 100 feet of a polling location, unless they are there to respond to a call or serve a warrant. And with the rise in media coverage of police violence, voting rights advocates have cautioned that even police presence near the polls could be seen as possible intimidation.
Still, police are fully staffed today at the Chambersburg department. Plainclothes police officers were even stationed around polling places to be sure there were no issues.
When one returned to the station, he reported seeing "a whole lotta nothing."
Still, the department is gearing up for possible unrest tonight as the polls close.
"It's all hands on deck today," said Officer Daniel Signore, 34. By noon, after driving in his patrol car for almost an hour, there were still no calls coming in from the polling locations. "It's halfway through the day and no calls. And trust me, people will call. They call with just about everything else." — Joseph Darius Jaafari of Spotlight PA
Allegheny County election judge's car stolen
4 p.m.
From TribLIVE's live blog:
"A poll worker was removed from a polling location on Ellsworth Avenue for allegedly 'causing a disturbance (and) taking pictures and video of polling place activities,' according to Allegheny County spokesperson Amie Downs. The poll worker, who was ordered removed by the Elections Court, was also looking at voters' ballots before scanning them, she said.
Downs also said one of the locations unable to open on time Tuesday morning was the result of an Elections judge's car being stolen. Inside the car was the suitcase containing the poll book and keys, though she stressed that no ballots were inside.
She said sheriff's deputies recovered the car and suitcase, and four of the five people believed to have been in the vehicle when it was recovered are in custody. The suspects are all juveniles, she said."
Masks, but limited social distancing in southern York County
3:50 p.m.
Marcus Dixon planned to spend this election the way he spends most elections: as a poll worker.
The other workers don't like his handwriting, so he usually doesn't handle the books. Instead, he helps people operate the machines, answers questions, and does anything else that's called for. But he had a knee replacement surgery in September and a complicated recovery.
"It's been much slower than I'd hoped," Dixon said after his wife helped him into their vehicle.
He voted at the Shrewsbury Township Municipal Office, a southern York County precinct where Trump won nearly 70% of the vote in 2016.
On Tuesday afternoon, a Thin Blue Line flag and a Trump flag stood on a pickup truck, parked on the road outside the office. More than 30 people waited in line mid-afternoon. Dixon waited over an hour to vote.
"Mail-ins looking better all the time," said Dixon who described his age as "over 70."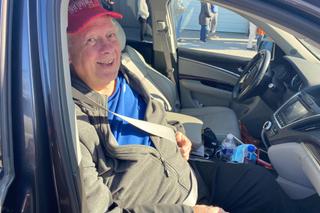 His wife, Sharon, was less open to the idea. "As long as we're healthy, we'll walk," she said. "They made it easy. There were chairs along the way if you needed to sit."
Most voters in line wore a mask. And voters did keep away from each other as they waited. Still, there weren't markers showing how far people should stand apart.
Steve Klesse, 63, said he's kept himself pretty isolated since the coronavirus pandemic began. He has diabetes and heart disease. He still preferred voting in person, and he figured he would use hand sanitizer before touching anything.
"We're awful close together, though — the closest I've been since February," Klesse said. — Ed Mahon of Spotlight PA
Demand for provisional ballots up in parts of Erie County
3:40 p.m.
Two Millcreek Township polling stations needed additional provisional ballots, according to the chair of the Erie County Board of Elections.
The higher volume of voters using provisional ballots has added to wait times, said County Council Member Carl Anderson III, who also serves as chair of the elections board. It's unclear how many provisional ballots have been cast across the county at this point, but the two Millcreek polling sites that needed more started the day with 50 each, Anderson said.
Before Election Day, officials expected demand for provisional ballots to surge as voters who applied to vote by mail showed up at polling places without their materials.
Voters who bring their mail ballot materials to the polls, meanwhile, can vote by regular ballot, but still need to fill out a form. Democratic Party Chair Jim Wertz said some polling sites have needed more of those forms.
Wertz flagged Millcreek, just outside the city of Erie's boundaries, as an area with especially high turnout and a 90-minute wait at some points in the day. — Tom Lisi for Spotlight PA and Votebeat
Lancaster County volunteers process mail ballots
3 p.m.
By 11:30 a.m., Carmalena Jo Stoltzfus Iyengar, 44, had processed more than 300 ballots and was working with a partner on their second batch of 550 envelopes at the Lancaster County Convention Center. Volunteers worked in groups of two, each stationed at their own white table — nine rows wide and a dozen deep — to slice open ballots, remove them from the secrecy envelope, and scan them into the system. Only a few had a missing secrecy envelope in Stoltzfus Iyengar's batch.
She said the process had gone smoothly, though a third ballot cutting machine would have been helpful.
"Even though this is a really small thing," she said of pre-canvassing, "being involved in something that is really big and important is valuable."
"It feels like there is good energy in the air here," she added.
Farther outside the city, Biden-Harris lawn signs were more often replaced by Trump flags hanging from front porches and waving like banners behind pickup trucks.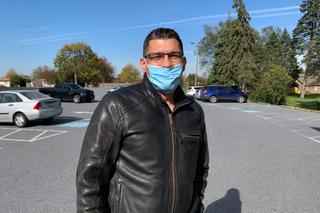 "We wanted to make sure everything goes the way we plan," said Jason Perez, 51, who was voting with his wife, Jessica, in New Holland around noon. He said he was energized for the election and was supporting President Donald Trump.
"Everything is on the line right now," Perez said.
Into the early afternoon, the polls remained mostly calm in Lancaster County, with Democrats and Republicans watching side by side and keeping signs from blowing away in the wind.
More Amish voters are also turning up this year, many arriving in large groups by van, poll watchers in several townships said. — Rebecca Moss of Spotlight PA
Dauphin County officials optimistic they can count all mail ballots by early tomorrow
2 p.m.
In Dauphin County, 53,012 voters returned a mail ballot as of Monday. From PennLive:
"[Commissioner Mike] Pries said that nearly 40 volunteers were already preparing the mail-in ballots which have been received thus far. Processing of those ballots begins by removing the outer envelope, while the inner envelope must remain sealed until 8 p.m. Those steps will help speed up the process in Dauphin County, Pries said.
'So we're very confident in Dauphin County that we're not only going to have our in-person votes tallied, tonight starting at 8:30 — and it will be on our new website, dauphinc.org/election — but we're also hoping and anticipating that we're going to have all of our mail-in ballots counted by midnight or early tomorrow morning,' he said."
'A work in progress' processing Northampton County's 71K mail ballots
1:25 p.m.
At the Northampton County courthouse in Easton, about two dozen employees — some wearing gloves, all wearing masks— were busy opening the more than 71,000 mail ballots that have been returned so far.
Deputy County Administrator Becky Bartlett said she didn't know how many ballots had been opened or scanned so far. "It's a work in progress," she said.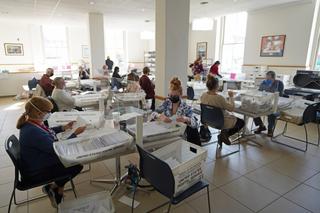 Inside a white-walled room on the courthouse's lower level, workers sat two to a table separated by plexiglass. Some opened outer envelopes and set the inner secrecy envelope containing the ballot in a tray, while others opened the secrecy envelope and pulled out the ballot, flattening it on the table. Meanwhile, three high-speed scanners and one envelope-opening machine whirred in the background.
Four official representatives from the political campaigns and other organizations like the ACLU stood against the wall, watching quietly. One observer held a pair of small black binoculars. — Marie Albiges for Spotlight PA and Votebeat
Hundreds of 'naked ballots' in York County
1:22 p.m.
An announcement went out over the speakers a little after 10:30 a.m.
"So you realize we've opened 73,000 envelopes," the speaker said to applause. "You are awesome!"
To handle the flood of mail-in ballots, York County set up a special space inside a large exhibition center at the York Fairgrounds. About 100 county employees worked there Tuesday morning. Eight team captains delivered envelopes and other materials to stations.
"It really is like an assembly line," said York County President Commissioner Julie Wheeler.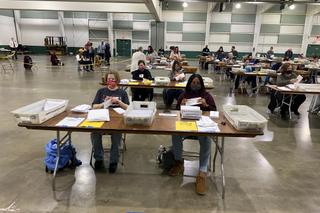 Their first step began at 7 a.m. when county workers started opening the outer envelopes that contain a voter's identifying information. Late Tuesday morning, they moved on to opening the inner, security envelopes, unfolding the ballots, and flattening them.
County spokesperson Mark Walters estimated the county received several hundred naked ballots — ones without secrecy envelopes — that would be set aside. The county did not have a formal count of the number of naked ballots early Tuesday afternoon.
Wheeler said the county would disclose the names and addresses of people who submitted naked ballots to political parties. Party officials can then contact voters and encourage them to cast a provisional ballot on Election Day.
This evening, York County plans to count and post results for all mail-in ballots it receives by 8 p.m. tonight. — Ed Mahon of Spotlight PA
Rolling out new voting machines in Luzerne County
1:20 p.m.
Inside Luzerne County Community College Public Safety Training Insitute, in Nanticoke, elections judge Frank Kostko greets voters "like a traffic cop," he said, directing them to different lines depending on where they usually vote.
It's a new polling place for Kostko. His usual one, "a high school football weight room," he said, isn't big enough for social distancing, so two wards are voting here instead. A fire truck sits in one corner and a blue protective suit with attached gloves hangs off a rack.
There were problems early in the morning with the new voting machines — "user error," Kostko said. At one point, about half of the machines couldn't be used, which Kostko attributed to "growing pains" that slowed down the process and meant people had to wait in line longer. But, he said, the issue was resolved in about half an hour and it wasn't as if people weren't able to vote.
"I would never turn people away," he said. "Once we figured out the issue I felt a little stupid."
Workers have been trained on using the new machines, but executing under pressure is hard to practice, Kostko said.
"This was not the best time to roll out new technology," he said. "It should have been in an off-year election."
Diane Surdouski, 72, said her experience voting on the new machines was "excellent" and "very easy." She said she was voting for Biden, after taking her 99-year-old mother to vote earlier in the day. "That was such a privilege," she said, "to take her to vote for the very last time in her life." — Charlotte Keith for Spotlight PA
Federal judges orders sweep of Postal Service facilities in Philly and central Pa. for mail ballots
1:13 p.m.
From The Philadelphia Inquirer's live blog:
"A federal judge in Washington, D.C. ordered the U.S. Postal Service on Tuesday to sweep its facilities in Philadelphia, central Pennsylvania, and 10 other locales for mail-in ballots to ensure they are delivered to election officials by the end of the day.
The order, from U.S. District Judge Emmet G. Sullivan, gave postal service officials until 4:30 p.m. to certify that those sweeps had been completed and there were no ballots awaiting delivery.
His order came amid ongoing litigation over concerns that recent delays in postal service operations could result in tens of thousands of ballots across the country being received after Election Day."
Despite confusion, Lancaster County will process ballots that arrive after Election Day
1 p.m.
Lancaster County will process mail-in ballots that arrive within three days of polls closing, despite remarks by a county commissioner suggesting that they won't be opened until the U.S. Supreme Court weighs in on a legal dispute over their fate.
Lancaster County Commissioner Ray D'Agostino late Monday wrote on his Facebook page that the county will process ballots that arrive until polls close — but suggested that any ballots that arrive after that will be set aside and not even opened until the high court rules on the matter.
Lancaster County Commissioners are refusing to count mail ballots that come in after Election Day until the Supreme Court rules on it... but the Supreme Court already said ballots postmarked on Tuesday, received by Friday should be counted.

COUNT EVERY VOTE. pic.twitter.com/rgBFrSPzjy

— Becca Rast (@BeccaRast) November 3, 2020
Kathy Boockvar, Pennsylvania's top election official, has said counties should segregate but count all ballots that arrive before 5 p.m. on Nov. 6.
She noted that unless the U.S. Supreme Court decides otherwise, the law currently requires that those ballots be processed. That is because Pennsylvania's Supreme Court in September extended the deadline by three days for counties to receive mail ballots, as long as those ballots are postmarked by Election Day. The state's justices said even ballots that don't have a legible postmark should be counted, as long as they arrive by day's end on Nov. 6.
Republicans have asked the U.S. Supreme Court to block the deadline extension, and the high court has left the door open to hearing the case.
D'Agostino could not be reached for immediate comment.
In an interview Tuesday, Mel Newcomer, Lancaster County's assistant solicitor, said those ballots will be processed, as long as the U.S. Supreme Court does not direct otherwise.
"The [elections] board will follow the law as it is at this time, and will process those ballots," he said. — Angela Couloumbis of Spotlight PA
The search for 'naked ballots' in Erie County
12:40 p.m.
Workers in Erie County are expected to process about 10,000 mail ballots today, out of roughly 51,000 returned, said County Council Member and Board of Elections Chair Carl Anderson III.
The rest will be counted in the coming days, but today's process will stop at 11 p.m.
Inside the Board of Elections offices Tuesday morning, 10 workers fielded calls from voters and tried to contact anyone who had sent in a "naked ballot" — one that lacks a required secrecy envelope — or had another ballot issue.
Workers search a database, and if there isn't contact information, they try to find another way to reach the voter. If the elections office can reach a voter about a problem discovered today, the person may have time to go to their polling place before it closes and cast a provisional ballot, Anderson said.
"If they don't immediately find them, they do a search to find them," Anderson said. "They don't just give up."
Before noon, election officials had found some naked ballots, as well as ones where the voter had erroneously signed the secrecy envelope, County Council Member and Board of Elections Member Kimberly Clear said.
"To me, it's an honest mistake, but we can't have any indicator of whose ballot it is, because it's supposed to be secret," Clear said.
During the first three hours of pre-canvassing, under 50 ballots had been set aside as deficient, Clear said. She did not know how many ballots had been pre-canvassed in that time, but she estimated the number of deficient ballots amounted to less than 1% of ballots so far. — Tom Lisi for Spotlight PA and Votebeat
Top election official: Drop off your mail ballot ASAP
Noon
During a Tuesday morning briefing, Pennsylvania's top election official said more than 81% of requested mail-in and absentee ballots had been returned: 1.6 million from Democrats, 586,000 from Republicans, and 278,000 from other voters.
While voters have until 8 p.m. to drop off their mail ballots (find a location here), Secretary of the Commonwealth Kathy Boockvar urged people not to wait, because many counties have a hard deadline to lock drop boxes.
Under a state Supreme Court ruling, counties are allowed to accept mail ballots that arrive by Friday as long as they were postmarked by 8 p.m. Election Day. If a ballot lacks a postmark or has one that is illegible, counties may still count it, as long as there isn't a preponderance of evidence showing it was mailed too late.
But the U.S. Supreme Court could still decide to intervene in that decision.
"It's hard to know exactly what the impact would be," Boockvar said, noting that the Department of State has issued guidance to counties to segregate mail ballots that arrive after 8 p.m. on Election Day.
She said the department is prepared to handle any litigation.
"I have no anticipation of bringing a lawsuit, unless needed, but so far so good," Boockvar said. "There are many, many excellent lawyers that we work with, and they are prepared on every front." — Cynthia Fernandez of Spotlight PA
Butler County independent felt 'duty' to vote in person
11:51 a.m.
The line of voters at the Pennsylvania National Guard offices in Connoquenessing Township, about 35 miles north of downtown Pittsburgh in Butler County, grew to at least 100 during the 10 o'clock hour as a steady stream of voters moved in and out of the polls.
Kaitie Bouch, 27, described the process as "pretty pleasant." An independent voter, Bouch said she came in person because she didn't trust the mail ballots — especially since she frequently receives the wrong mail, even outside of election season.
"I felt like it was my duty to come out in person and make sure I got my vote in," she said.
Bouch didn't want to share who she voted for, but described her votes as a "mixed bag" cast for different parties depending on the race. She prioritized issues like protecting the environment, along with safety for first responders and Second Amendment protections.
First-time voter Stephanie Gaurrich, 26, requested a mail ballot but wound up at the polls Tuesday because she didn't put hers in the mail in time. On her way into the polling place, she said she wasn't concerned about how her ballot would be handled.
She registered to vote this year because her three children — ages 10, 7, and 12 weeks — are starting to learn about the process and ask questions. It's important for them to know that their opinion counts, she said.
Teaching them about the voting process does have its challenges, she said.
"It's hard to voice your opinion without making them feel like that has to be their opinion," she said. — Jamie Martines of Spotlight PA
Early turnout strong in Harrisburg
From PennLive:
"After two hours of a continuous line of voters, the crowds at the Second City Church on Verbeke Street in Harrisburg had finally died down a bit.
'There were people here around 6:30,' said Christina Wagner, a volunteer helping to run the polling place. 'People were still coming in [until 9 a.m.] when it slowly dissipated. This is the first time there weren't people waiting to get in.'
By 9 a.m., the voters at the midtown Harrisburg polling place were still streaming in regularly, one or two at a time. They were directed to enter in the back of the church, rather than the usual main entrance. They were then ushered through the building and out the front doors, ensuring a consistent one-way flow of traffic for COVID-19 prevention. Masks were provided to any voters who did not have their own."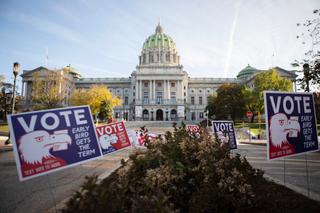 'A lot of turnout' in Luzerne County
At the Jackson Township Fire Hall in the Back Mountain region of Luzerne County, Amy Grabinski was trying to keep her two young daughters occupied as they waited in line. She said the outcome of the election made her a little nervous, knowing how much it could affect people's lives.
Betsy Fledermaus said this was her regular polling place and she had never seen such a long line. This election feels "monumental" she said — not only for the U.S. but for the future of the world. Jeffrey Fledermaus said he had taken the day off work to vote, anticipating a long wait.
Bill Hardwick, a volunteer for the campaign of Republican state Rep. Aaron Kaufer, said he had been outside the fire hall since early in the morning, sheltering from the icy wind behind parked cars and trying to keep moving. At one point, he said, the wait was about an hour and a half. "This is a lot of turnout," he said.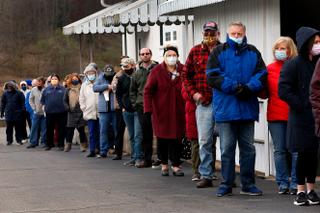 Unlike many people waiting in line, who mostly said they planned to vote for President Donald Trump, Hardwick said he is a Democrat. But he said he likes that Kaufer puts what's best for the district above party loyalty. Hardwick said he thinks there are more people like him than are willing to admit it — people who could be moderate Democrats or moderate Republicans.
Jim Wood, 51, said voting in person was just something he had always done. "As a citizen, I believe it's your duty to express your opinion," he said. Whoever wins, he said he expects "commotion." But he said he won't be fixating on the early results. "I don't let politics consume my life," he said. — Charlotte Keith of Spotlight PA
Early legal challenges emerge in Philadelphia and Montgomery County
11:02 a.m.
From The Philadelphia Inquirer's live blog:
"As the counting of mail-in ballots officially got underway Tuesday in Pennsylvania, disputes over access to the canvassing by GOP monitors and questions over how far election officials can go to alert voters that incorrectly submitted their ballots immediately resulted in legal challenges.
In Montgomery County, Republican lawyers sued in federal court to stop election officials there from contacting voters to correct deficiencies in their mail-in ballots. They also complained that their canvas monitors were being kept too far away from the actual canvassing to provide any meaningful oversight.
The Trump campaign raised similar challenges in Philadelphia's election court."
The tedious process of handling mail ballots begins in Westmoreland County
11 a.m.
In Westmoreland County, 57,336 voters had returned mail ballots to election officials as of Monday. From the TribLIVE live blog:
"The processing of Westmoreland voters' mail-in ballots is underway with two assembly lines of seven or eight people in a room at the county courthouse. Around 10:15 a.m., ballots from Allegheny Township voters were being processed.
The process is tedious. One person starts the line by running the envelopes through a machine to open them. Two more people remove the inner secrecy envelope and pass it to another person who runs that envelope through another machine to open it.
A final group removes the ballots from the secrecy envelopes and flattens them. Workers at four stations scan the ballots while a few poll watchers observe the process."
'A regular Election Day' … almost
10:45 a.m.
The good-government group Common Cause Pennsylvania, which is fielding issues of potential intimidation or suppression at the polls, reported around 10 a.m. that voters had not raised any major concerns.
Interim Executive Director Suzanne Almeida said on a press call that the group is hearing typical reports of long lines, often due to polls that opened late, especially among communities that are predominantly of color. Common Cause is also seeing "enthusiastic partisan supporters," Almeida said, but no evidence of issues it was concerned about. "We're having what is almost a regular Election Day," she said. — Kamala Kelkar of Spotlight PA
Election exhaustion in Easton
10:30 a.m.
Jess Wall, a 24-year-old lifelong Easton resident, said she didn't get her mail ballot until a week ago and didn't want to risk putting it in the mail and not having it get to the county elections office on time.
A special education teacher, she had the day off because her elementary school is a polling location, and said she spent about 20 minutes waiting to vote.
Twin sisters Bev Febbo and Barbara Simpson, 59, said they didn't trust the mail ballot process and wanted to be sure they cast their votes in person.
They said they were looking forward to the end of the election.
"It's stressful," Simpson said. "I'm tired of the commercials, I'm tired of it all." — Marie Albiges for Spotlight PA and Votebeat
Pre-canvassing underway in Allegheny County
10:11 a.m.
In Allegheny County, voters had returned 332,820 mail ballots as of Monday. From the TribLIVE live blog:
"Allegheny County spokesperson Amie Downs said in an update shortly after 9:30 a.m. that 80% of the ballots at the county's warehouse are 'at some stage of the pre-canvassing process.' About 105,000 have had the first outer envelope opened, and around 10,000 have been taken from the secrecy envelope. Those ballots are being flattened and scanned.
Downs said the three polling places initially delayed in opening are all now open and operating. Any reports of voting machine issues have been addressed, she said, and most of them were attributed to user error."
In Lancaster, voters lack trust in mail-in voting
9:52 a.m.
Sarah Paine, 44, and her wife, Kelly, 35, showed up at St. Anthony's Catholic Church in Lancaster before 8 a.m. Tuesday hoping for change.
"We wanted to make sure we could see it get counted," Sarah Paine said of her ballot.
"If I can shop at Walmart, I can vote in person," Kelly added, though they'd left their three children at home because of the coronavirus. "We are ready for some change, hopefully, fingers crossed," she said.
Neighbors in line, many of whom said they lived within a few blocks and have been voting at St. Anthony's for over a decade, said the 15-minute wait in the cold was the longest the line had ever been.
Barbara Lassahn, 59, said she tested negative for the coronavirus before arriving at the polls but was still undecided. She is a life-long Republican, but as she entered through the church doors, she said, "I might change my mind, I don't know. Give someone else a chance."
Nearby, at the Lancaster County Convention Center, more than 150 volunteers and staff were spread out in a large ballroom where the sound of high-speed letter openers had already begun churning through mail ballots. More than 80,000 ballots had been returned by Tuesday morning and county commissioners said they expected to get through all of them by 8 p.m. Results are expected to be posted immediately, with in-person results trickling in until 11 p.m.
"This is the biggest Election Day operation in Lancaster history," said County Commissioner Josh Parsons, an American flag mask pulled over his mouth. "We think the vast, vast majority will be counted today and uploaded tonight."
A mile away, at St. John's Episcopal Church, more than 30 voters stood waiting for the polls to open, but within an hour the line had dissipated and voters trickled in leisurely, stopping at a bake sale set up by the church.
Chuck Pinkerton, an Army veteran, said he thought the quiet morning indicated more people had voted by mail because of the coronavirus. Still, it was important for him to show up in person: "You can't really complain if you don't go out and vote."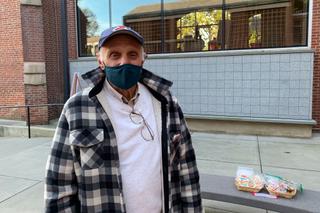 Dave Martin, 84, a former science teacher at J.P. McCaskey High School in Lancaster, had baked sugar cookies with red, white, and blue sprinkles in the shape of donkeys and elephants for the occasion.
"Depending on which one you eat, one of them is going to give you indigestion," Martin said jovially. He recommended the lemon bars instead. — Rebecca Moss of Spotlight PA
Luzerne County voters head to polls out of habit, to make sure their vote is counted
9:38 a.m.
By 7:30 a.m., a slow-moving line of about 70 people snaked through the parking lot of the Toyota SportsPlex in Wilkes-Barre, the county seat of closely watched Luzerne County.
Several of those waiting said it was their first time voting here, instead of at smaller locations where the wait is normally shorter.
John Sobeck, who had been waiting about 20 minutes, said he was "kind of impatient" but was voting in-person because he didn't trust the mail. He wouldn't put cash in the mail, he reasoned, so why would he trust it with his ballot? Jerry and Bridge Ryan said they live "right up the hill" and were voting in person "out of habit."
Chris Wolfe, who had just voted, said it was "organized chaos" inside the polling place, with everyone crowded "like cattle in a pen." He said he had voted straight Republican; in the one instance where there was no Republican candidate, he said he wrote in "Satan."
Tomar Taylor said he had spent 20 minutes in the wrong line inside because it wasn't clear which line was for which ward. Because of the confusion, he said, "people ended up on top of each other." But he said everyone was wearing masks and that it was important to him to vote in person to make sure his vote was counted. — Charlotte Keith of Spotlight PA
Butler County voters say obligation, tradition brought them to the polls
9:22 a.m.
Voters in Cranberry Township in Butler County started lining up around 6 a.m. to be among the first to hit the polls at the Cranberry Municipal Center, which houses three polling locations. Cranberry, about 30 minutes from downtown Pittsburgh, is one of the most populous and fastest-growing areas in the region.
Voters exiting the polls — some of whom voted for Biden, while others voted for Trump — said the mood inside was pleasant and volunteers were organized. Most who arrived before the polls opened or shortly after said they were in and out in an hour. Volunteers were wiping down equipment, most people were wearing masks, and voters were distancing as much as possible.
Dave Trapold Jr., 48, was the eighth person at his polling place this morning.
"I felt that it was important to do it in person, versus mail-in or absentee," said Trapold, who voted by absentee ballot during the June primary because of work obligations.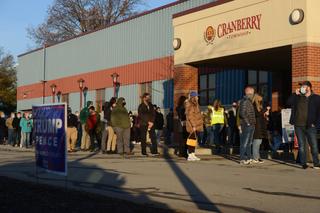 He's always voted for the president in person, and he felt it was important to do that today as well to vote for Trump.
"I'd like to see a little more movement in the economy, getting back to where it was before COVID," Trapold said, adding that he'd also like to see the president do more work on protecting health care for people with preexisting conditions and bolstering Second Amendment rights.
Trapold exercised his right to open carry at the polls Tuesday, but said he often carries a sidearm. His decision to have his gun on him today wasn't out of the ordinary, he said.
Robert Smith, 82, who cast his vote for Biden, also kept with tradition to vote in-person. He also wanted to make sure his vote got in — he was worried about mail-in ballots arriving in time.
Smith said he'd like to see elections officials take their time and get the count right.
"Don't just try to make a snap decision," he said. "Haste makes waste." — Jamie Martines of Spotlight PA
'Trust' is the word of the day in Northampton County
9:04 a.m.
"Trust" was the word several voters in line at St. John's Windish Evangelical Lutheran Church used when explaining why they were voting in person in Bethlehem.
"I didn't have confidence in the mail," said Frank Hostetter, a 60-year-old Air Force veteran who requested a mail ballot just in case he would have to be in Florida on Election Day, tending to his elderly mother.
Instead, he had the ballot in hand, ready to surrender it and cast a vote in person.
Many in line and elsewhere in Northampton County apparently had the same idea. One county election official, who didn't want to be identified, said polls, including this one, were quickly running out of the forms needed to surrender a mail ballot to cast a vote in person.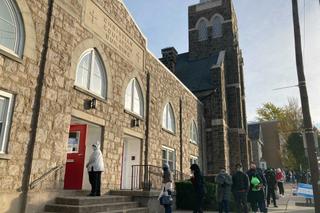 For first-time voter Audrey Sickles, distrust in the vote-by-mail option also brought her to the polls. The 21-year-old Lehigh University senior said she was excited to cast her vote in person.
"I want to make sure my vote is counted," she said.
Joyce Moya and Jack Rosario also said they didn't "trust" the mail, and were voting in person "to make a difference."
Their son, who is 11, is worried, they said. He'll probably watch the unofficial results come in with them after the polls close.
"He knows it's important," Moya said.
Hostetter, the veteran, said no matter who wins the election, it's a "celebration of our democracy." After casting his ballot about 40 minutes later, he said he felt relieved.
"The process worked," he said. — Marie Albiges for Spotlight PA and Votebeat
80% of requested mail ballots returned
8:51 a.m.
From The Philadelphia Inquirer's live blog:
"Pennsylvania voters have returned 2.5 million mail ballots, according to data from the Department of State. That's more than 80% of all ballots requested.
More than 3 million mail ballots have been sent to voters. That leaves nearly 600,000 mail ballots that have not yet been marked as returned. In the last week, more than 790,000 completed mail ballots were returned to county election offices.
Nearly 63% of mail ballots were requested by registered Democrats, while Republicans requested about 25%. Nearly 12 percent were requested by registered independents."
Lack of trust in the mail and a missing mail ballot in York city
8:37 a.m.
Darcelia Tyson showed up to her York city polling place at about 6:15 a.m.
She wore a Black Lives Matter T-shirt and a mask with the words faith, hope, and love printed on it. She was first in line.
"I didn't trust the mail," said the 65-year-old Tyson, who was a child-care worker before the coronavirus pandemic.
York County is solidly Republican. Four years ago, Trump won the county by 29 percentage points or 60,000 votes. But the city of York is solidly Democratic — Hillary Clinton received over 90% of the votes in Tyson's precinct.
About a dozen voters waited inside a hallway at Crispus Attucks community center just before the polls opened at 7 a.m. A worker with Election Protection, a voting rights organization, waited outside, holding a sign asking people if they had voting questions.
Sebastian Santos, 20, said Pennsylvania's new mail-in voting system was stressful. He said he requested a ballot multiple times and never received one.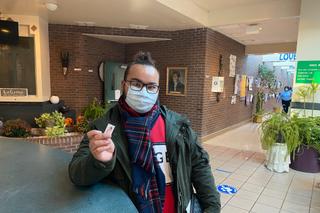 "The system just says that it was delivered on the 13th, and I should have received it," Santos said. "I didn't get anything."
He cast a provisional ballot on Tuesday. That process was easier than he expected, but those ballots can still be challenged.
"It's a little worrisome," Santos said. "But I feel OK that I got to say something, contribute a little bit." — Ed Mahon of Spotlight PA
Why one Franklin County voter came to the polls
8:24 a.m.
Robert Williams, 38, is a registered independent and likes both Democrat Joe Biden and Republican Donald Trump. A new resident of Chambersburg straight out of the military, he told Spotlight PA that he thinks the president "gets blamed for a lot of things that aren't his fault, necessarily."
When asked why he decided to vote in person, in spite of fears of possible intimidation, he said: "I was given an analogy by someone. When you win the lottery, you can either mail in your ticket or drop it off. Why would I mail in my million-dollar ticket?" — Joseph Darius Jaafari of Spotlight PA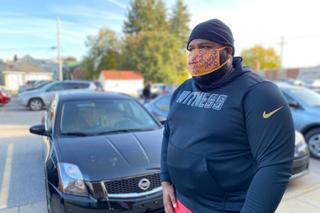 In-person voting begins
8 a.m.
Hundreds of polls across Pennsylvania opened at 7 a.m. and will remain open until 8 p.m.
In Franklin County, Spotlight PA reporter Joseph Darius Jaafari spoke to Barb Beattie, a member of the town council in Chambersburg. As of 7:45 a.m., Beattie said there was an hour-long line at the Chambersburg recreation center. A constable on duty told Jaafari it's the longest he's seen this early.
Amanda Wong, 32, said she decided to come in person rather than vote by mail: "I always vote in person. I'm not overthinking it."
Good morning from the Cranberry Twp municipal building, Butler County, where the parking lot is full & voters are already wrapped around the building. There are 3 polling sites here. Cranberry is one of the most populous parts of the county, ~30min from Downtown Pgh #ElectionDay pic.twitter.com/EHhkzgMCVc

— Jamie Martines (@Jamie_Martines) November 3, 2020
Votebeat reporter Tom Lisi stopped at Edinboro Community Building, about 18 miles south of Erie. Several voters leaving said the line grew to about 50 people by the time polls opened. Aaron Conley, an IT director and supporter of Democrat Joe Biden, said that's a bit more than a normal presidential election here.
Everyone wore masks inside, several voters said, but voters stood pretty close together — not six feet apart. Five voters said they voted in-person because they did not fully trust the mail-in ballot system. "I just didn't want to accidentally fill out something that wasn't official," Karly Long, an elementary school art teacher and Biden supporter, said.
An important reminder from Inquirer reporter Jonathan Lai: Issues when the polls open are not unusual or special to 2020.
When polling places open at 7 a.m. in Pennsylvania tomorrow, there will be some amount of messiness. That always happens.

Here are three things I try to keep in mind:

— Jonathan Lai 🙊 賴柏羽 (@Elaijuh) November 3, 2020
— Sarah Anne Hughes of Spotlight PA
How to report problems or get voting info
6:30 a.m.
If you need last-minute voting information, you can seek official answers from the Pennsylvania Department of State by calling 1-877-VOTESPA. The nonpartisan Election Protection coalition has its own hotline, as well: 866-OUR-VOTE.
If you need to lodge a complaint about something you experience while voting, you can call the state's hotline (1-877-VOTESPA) or reach the department using this form.
And as part of a collaboration with ProPublica's "Electionland" project, you can report problems at the polls to Spotlight PA using this form. — Sarah Anne Hughes of Spotlight PA
What you need to know before heading to the polls
6:30 a.m.
The big day is finally here. If you've already voted by mail, congrats — your work is done.
But for those of you heading out to the polls, here's what you need to know:
Polls are open from 7 a.m. to 8 p.m. Double-check your polling place here.

In addition to nonpartisan poll workers, you may encounter partisan poll watchers who are sanctioned to observe polling places. Here's what they can — and can't — do.

Have a completed mail ballot? You can still drop it off today by 8 p.m. Some satellite offices and drop boxes will close before then, so make sure to look up your local details.

Have a mail ballot but want to vote in person? Bring all of the materials with you to your polling place.

Requested a mail ballot but it never came in the mail? You can still vote using a provisional ballot.

If you are facing a last-minute problem and can't make it to the polls, you may qualify for an emergency absentee ballot. Read about those here.
The word of the day is patience. Election officials can only begin processing mail-in and absentee ballots this morning, which means it may take days to report the full results. Some counties aren't planning to begin the process until tomorrow. So if you see any candidates or campaigns declaring victory tonight in hotly contested races, chances are their celebrations are premature. — Sarah Anne Hughes of Spotlight PA
100% ESSENTIAL: Spotlight PA relies on funding from foundations and readers like you who are committed to accountability journalism that gets results. For a limited time, become a member of Spotlight PA and your contribution will be TRIPLED: spotlightpa.org/donate.