Capitol Live
VIDEO: A live reader Q&A on Pa.'s coronavirus surge and coming vaccine
by

Spotlight PA Staff

|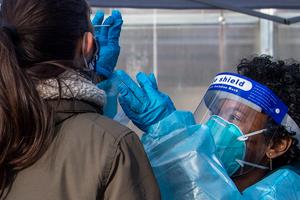 Spotlight PA is an independent, non-partisan newsroom powered by The Philadelphia Inquirer in partnership with PennLive/The Patriot-News, TribLIVE/Pittsburgh Tribune-Review, and WITF Public Media. Sign up for our free newsletters.
The surge and the coming vaccines are top of mind for Pennsylvanians this winter. On Dec. 7, Spotlight PA held a live reader Q&A with a panel of health experts to talk about testing, schools, holiday stress, tracing effectiveness, what to expect from those vaccines, and more.
A full recording of the event is available below.
» Events like this one are made possible by readers like you who value independent journalism in Pennsylvania. We rely on your support. Become a member of Spotlight PA today.
RELATED STORIES
100% ESSENTIAL: Spotlight PA relies on funding from foundations and readers like you who are committed to accountability journalism that gets results. Become a member now and your contribution will be TRIPLED: spotlightpa.org/donate.